Mammal Taxidermy With Allis Markham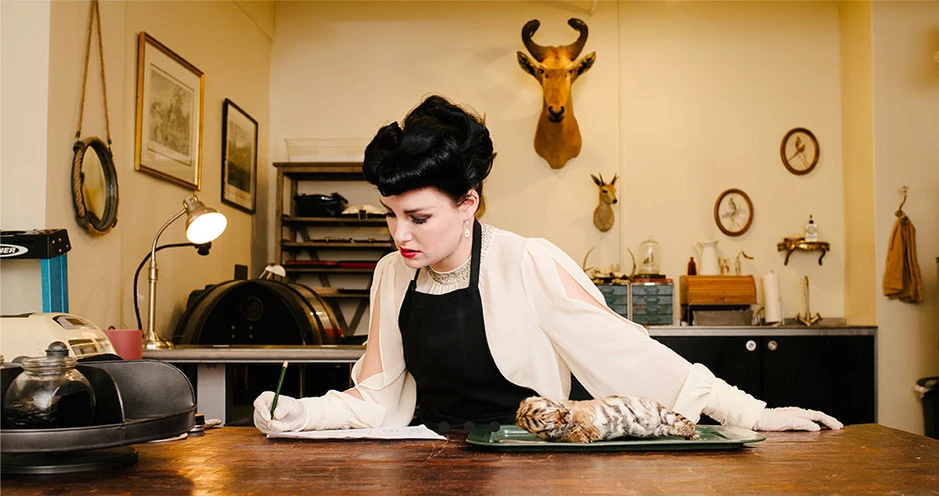 About This Course
In this on-demand course, let taxidermist Allis Markham take you on a deep dive into the techniques of mammal mounting.
Course Description
Step inside the studio of Allis Markham, award-winning taxidermist and educator, to learn the art, science, and ethics of preserving animals. Over the course of three video lessons, Allis takes her students through the process of mounting mammals as taxidermy from start to finish using techniques you can use at home. Allis demonstrates every step of the process using a skunk that has been ethically sourced (found dead) and provided by a museum for taxidermy, and the concepts covered can be applied to most small-to-medium sized mammals.

By the end of this course, you'll not only have a deeper understanding of the taxidermy process, but you'll also be equipped with printable PDFs detailing each step, links to resources that can help you practice mammal taxidermy at home, and tips for legally and ethically acquiring your own specimens. At the very least, you'll leave this course with a new appreciation for the anatomy of the creatures you encounter in your neighborhood or backyard.

While this course is designed for all beginners, it can serve as an appropriate learning tool for makers of all levels. Please be advised that your instructor will be handling biological specimens on camera.

A Note on Course Materials & Format: Please note that this course was originally offered live on Zoom to a group of students. You may hear references to resources that were originally posted on the Google Classroom, and these materials can now be found in your course player. You may also hear an Atlas Obscura moderator facilitating a live Q&A session, references to Zoom features, and the original dates and schedule of the live course—please disregard this information. Enjoy the course!
What Is Included
This course includes three video lessons featuring 6 total content hours.
Also included in the course:
Detailed diagrams and supply lists
Step-by-step instructions for tanning, form creation, mounting, and finishing
A curated reading and watching list for further exploration on your own
Access to a community forum for Atlas Obscura mammal taxidermy students
Materials
This course is designed to give participants the information and resources they need to do small mammal taxidermy at home. In addition to the three video lessons in which Allis will be demonstrating the steps of working on a skunk, we will also provide a detailed tool and supply list, ideas for how to legally and ethically source specimens, step-by-step instructions, resources for further study, and more, so participants can practice on their own. You can pause, rewind, and rewatch as much as you like, and follow along with the different steps once you have your materials and are ready to practice what you're learning.
About Your Instructor
Allis Markham
Allis Markham
is an award-winning taxidermist/nassologist based in Los Angeles, California. She was named Third in the World at the 2017 World Taxidermy Championships and was the 2018 California Champion, receiving Judges' Choice Best of Show, People's Choice, and the Artisan Award from the United Taxidermist Association.
More recently, Allis has focused on museum work and public education, and taught the only taxidermy course in the country in recent years at Occidental College. She's worked with institutions such as the Natural History Museum of Santa Barbara, Moore Lab of Zoology, The Huntington Library, The Frost Museum of Science, Colorado State University, and The Getty. Additionally, she's created commissions for Gucci, The Nomad Hotel, EB Florals, and television shows such as Bates Motel. Allis has also been featured in numerous publications such as
The New York Times
,
The Washington Post
, the cover of LA Weekly, and more. You can also watch the critically acclaimed documentary
STUFFED
, which followed her for several years, or listen to her episode of
Ologies
.
Getting Started
Accessing Your Course
This course is designed so students can learn at their own pace and participate in the course whenever and however it is convenient for them. You will have 24/7 access to your course for one year.
Once enrolled, you'll have immediate access to your course by selecting the "Start Learning" button on the Thank You page after completing your purchase. To access your course at any time, you can sign in at
courses.atlasobscura.com
. View all your purchased on-demand courses by navigating to your profile using the menu at the top of the page.
We provide closed captioning for all of our courses and can share transcripts upon request. Please reach out to us at
[email protected]
if you have any questions, requests, or accessibility needs.
Course Community
Connect with other students, share what you have learned, and find inspiration through the community feature. While this type of participation isn't required for this course, students may use this feature to post resources, ask questions, or connect with one another about course material. Please take a moment to review our
community guidelines
for students, which aim to set the tone for our learning community.
Atlas Obscura Courses
Atlas Obscura Courses offer deep and dynamic online learning in underexplored disciplines—from lockpicking and experimental perfumery to reading gravestones and writing fairy tales. Designed and taught by subject-matter experts and experienced educators, Atlas Obscura Courses offer opportunities to explore niche topics and skills, in both live and on-demand formats. No matter which course or learning style you choose, you're sure to emerge with new skills, knowledge, connections, and perspectives.
To learn more about our current course offerings, please visit
www.atlasobscura.com/online-courses
. For answers to commonly asked questions, check out our
FAQ page
.
Learn more for less!
Bird + Mammal Taxidermy
\Learnworlds\Codeneurons\Pages\ZoneRenderers\CourseCards